Welcome to our web site.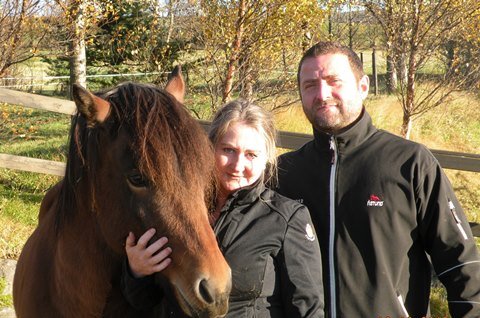 The breeders at Jaðar in Hrunamannahreppur are Agnar Róbertsson and Kristbjörg Kristinsdóttir.
A systematic breeding started with us in 2003. From the year 2000 we had been buying promishing fillies and after we moved to Jaðar in 2001 we bought two older breeding mares. The cornerstones in our breed are Glóð from Fet, Snælda from Fet, Prúð from Stóra-Hof and Gyðja from Gýgjarhóll. They have all given us 1st price offsprings.
By the end of year 2003 we bought a stallion foal from Stóra-Hof and named him Stígandi, he is the main stallion of our breed. Stígandi is from the honorary parents Aron from Strandarhöduð and Hnota frá Stóra-Hofi. Stígandi is a highly judged stallion with 8.10 form conformation and 8.72 for riding abilities.
Our breeding goal is to breed big five gaited horses with separated gates, willingness and good temperament.